! 
Admin's note:
All articles to the links in red down below do already exist. These will be migrated to the links currently listed in the following weeks (as of week 44-2018). Until then, you can search for these in the search box (🔍) above!
 !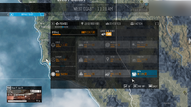 Awards are shorter tasks in The Crew that players can complete. In The Crew, Awards are split up into different categories and sub-categories each containing their own set of awards to be completed. For each award that the player completes, they will be rewarded with a certain amount of Award points (

) and for each category completed, players will be rewarded with an award spoil bonus as well as with an US state license plate (some categories do, however, have international plates as rewards). In total, there are 61 categories all together with

15,917 to be accumulated.
Awards do not re-appear in The Crew 2.
These awards are related to the vehicles of the players. These awards include stunts and types of ownership of cars. There are in total 21 categories and a total of

5,123 to be accumulated.
Completing these awards requires the player to go and explore places or items that are in the map of The Crew. There are in total 20 categories and a total of

4,969 to be accumulated.
These awards are mostly relating to player progression in The Crew as well as playing in online PvP mode. There are 20 categories in total and a total of

5,825 to be accumulated
Community content is available under
CC-BY-SA
unless otherwise noted.