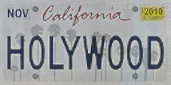 Los Angeles is a sub-category award set to the Cities category in The Crew. The Los Angeles category all relates to activites that are to be completed in Los Angeles, Califonia. There are in total

213 points to be accumulated. Once all awards have been completed, players will have earned a Californian state "HOLYWOOD" license plate.
The "OJ" in the "Glass of OJ" award is an abbreviation of Orange Juice and may be a reference to OJ Simpson.
Icon
Title & Description
Reward
City of Angels
Visit Los Angeles for the first time.
 5
Not So Angelic
Trigger and escape a 5 star police pursuit.
 5
Keen Cosplayer
Visit the Los Angeles Game Center between 2am-5am game time.
 5
Sleeping Angel
Drive 10 miles at night.
 5
Glass of OJ
Drive 5 miles in an orange car.
 10
Harbormaster
Drive a lap around Los Angeles Harbor in less than 1m 10s.
 10
Neighboorhood Watch
Drive a lap around Palos Verdes residential are in less than 60s.
 10
Oil Slick
Drive a lap around the oil field in Inglewood in less than 60s.
 10
LA Tourist
Drive to the Donut Stand and Crossroad of the World in a session.
 15
By The Waterside
Drive to the Long Beach, Marina del Rey, and Santa Monica Pier landmarks in a session.
 15
Outta The Ghetto
Drive to the Inglewood, Palos Verdes, and Venice landmarks in a session.
 15
Glitz and Glamour
Drive to the Hollywood Boulevard, Beverly Hills, and Rodeo Drive landmarks in a session.
 15
LA Cruisin'
Drive 50 miles.
 20
Tour of LA
Visit 20 landmarks.
 20
Angelic Skills
Earn a bronze medal on 9 skills in Los Angeles.
 20
La La Local
Discover 33 named locations.
 33
Community content is available under
CC-BY-SA
unless otherwise noted.