Calico, CA
Population: None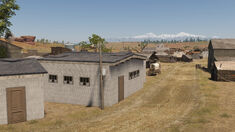 Calico (also referenced as Barstow Ghost Town in-game) is a ghost town located in the south of California. It was founded in 1881 after four prospectors from Barstow (previously Grapevine Station) had found silver that could be used for exploatation. Population in the town grew quickly after the discovery and continued to do so after the discovery of yet another mineral, namely colemanite.
The city of Calico had an estimated peak population of 3,500 people in 1890, the same year when Calico started its population decline as the 1890 Silver Purchase Act was introduced and decreased the value of silver. By 1907, Calico had turned into a ghost town. Calico today has been restored to represent its previous glory days under the silver rush era.
In The Crew 2, the photo op mission Ghost Church is located here and is one of two official ghost towns featured in the game with the other ghost town being Rhyolite, Nevada.
Community content is available under
CC-BY-SA
unless otherwise noted.