Far & Beyond Shopping Company is an in-game store in The Crew 2 that allows players to purchase pre-packaged bundles and the season pass in-game. The bundles typically feature two or more vehicles that players can purchase at the same time with a discount for a far lesser cost than per usual with either in-game bucks or crew credits whilst the in-game season pass requires real money to unlock.
Players who already own a vehicle from a bundle are still able to obtain the remaining cars from the bundle. Once purchased, they cannot be purchased again and players who since previous have owned all vehicles from a bundle will not be able to purchase the bundle at all.
The company can be found in all of the headquarters in-game. It was added alongside the Gator Rush update DLC on September 26th, 2018. Before the King of Mayhem update, new deals emerged typically every Monday and Thursday, however, after the update, new deals appear every now and then.
Bundles pre King of Mayhem update
[
]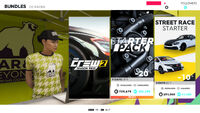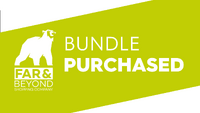 Air & Water & Sea:
Elite Bundle:
Focus Lineage:
Hovercraft Starter:
Japanese Edition:
King of Mayhem:
Motor Toys:
Offroad Boost:
Offroad Xpert:
Porsche Addict:
Rising Sun:
Road & Sea:
Road & Sky:
Spirit of England:
Street Race Starter:
The German Brotherhood:
Velocita: