Florida Keys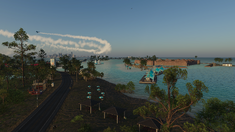 Florida Keys are a set of islands (archipelago) between the cities of Key West and Miami, Florida. The islands are connected through U.S. Route 1 Overseas Highway.
Some landmarks in this area that are featured in the installments of The Crew is the Key West Naval Air Station with its three runways making it an ideal landing spot for helicopters and planes as well as Fort Jefferson, a fortress in the Gulf of Mexico that is not accessible with an on-ground vehicle.
In The Crew 2, there are three activities for the player to participate in, namely the Keys (Escape) and Keys (Slalom) skill activities and the Keys (Aerobatics) race. The Slipstream photo op mission is also to be completed in this area.