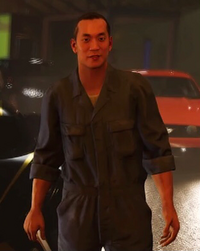 Hiroyuki "Hiro" Carter is a character that appears in The Crew 2. He is mostly known as the player's wingman and appears in all motorsport families giving assistance and guidance throughout the player's career. He is also the player's mechanic.
The only time he seen doing any mechanic work is during the outro cutscene of Latrell's Car (Part 1), as he prepares the Koenigsegg Regera for Latrell Jordan, mentor of the street racing motorsport family. He can also be heard talking about adjusting the currently driven Drag vehicle after each run of Tweak And Shout.
Most of the time, Hiro can be heard during races, complimenting the player on being in the lead, or expressing his frustration that "the other mechanics" will laugh at him in the pits when the player falls behind. During the Lake Michigan Endurfix Event, Hiro tells a story about the time he met a girl at the bumper cars.
Hiro is voiced by Joseph May.[1]
Gallery
[
]
References
[
]