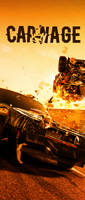 Car-nage was an ongoing LIVE Summit in The Crew 2 taking place between January 6-13, 2021 which succeeded the Gold Seeker LIVE Summit.
Car-nage was a themed summit and featured events and activities that were for the most part restricted to American manufactured vehicles.
Car-nage was followed up by the Next Chase LIVE Summit on January 13, 2021 at 04.00 UTC. It was the first new summit of 2021. A follow-up to the summit, Car-nage Lovers, was launched in February.
Bronze
Silver
Gold
Platinum

300,000 followers

Ford Shelby GT500


All visual parts

Fender Vero

Red Storm underglow
Epic

vanity item
Community content is available under
CC-BY-SA
unless otherwise noted.