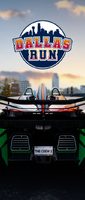 Dallas Run was an ongoing summit in The Crew 2 that took place between July 28 - August 4, 2021 and succeeded the Miami Heritage LIVE Summit.
Dallas Run is a themed summit featuring certain events (including one skill) taking place in Dallas, Texas. Most events take place off the road.
Dallas Run was followed up by the Hypercars Plains LIVE Summit on August 4, 2021 at 04.00 UTC.
Rewards
[
]
Bronze
Silver
Gold
Platinum

150,000 followers
52,500
Endurfix energy lines tire
Common

vanity item

Legendary parts


TC: The Nitro Chemist
Events
[
]
Icon
Type
Name
Restriction

Dallas Aerobatics
Any airplane

Great Plains Slalom
Any landbased vehicle

Mississippi Buoy Smashing
Any waterbased vehicle

Stage 4: Dallas - Santa Fe

None

Tiger Tonic Event
Audi S1 EKS RX quattro

Episode 2

None

Dallas
Ford F-150 SVT Raptor

Dallas Tiger Tonic Event
None

Dallas Special
Mixed event
Ducati Monster 1200 S