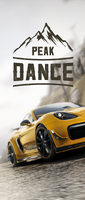 Peak Dance was an ongoing summit in The Crew 2 that took place between August 11-18, 2021 and succeeded the Hypercars Plains LIVE Summit.
Peak Dance was a themed summit characterized by all of its events and skills taking place in the areas of the Mountain States such as Pikes Peak, Yellowstone and Glacier Park, with most of them taking place off the road.
The summit also saw the return of the Porsche Cayman GT4 "Wasp" edition from the Flying Germans summit that players could win by reaching the platinum rank (4000 on PC, 11000 on PlayStation 4, 2100 on Xbox One and 100 on Stadia) by the end of this summit. It was the first live summit to feature a platinum prize vehicle that have been featured in a previous summit. It was also the first time that the special edition car can be obtained on the Stadia version.
Peak Dance was followed up by the Speedtrip LIVE Summit on August 18, 2021 at 04.00 UTC.
Rewards
[
]
Events
[
]
Icon
Type
Name
Restriction

Pikes Peak Aerobatics
Any airplane

Pikes Peak Escape
Any landbased vehicle

Rockies Escape
Any landbased vehicle

Stage 6 - East

Land Rover Defender Works V8 70th Edition

Yellowstone
None

Rockies
Harmon Rocket HR III

Glacier Park Special Stage
Mitsubishi Lancer Evolution WRC05

Ski Jump
Ford Focus RS RX

Pikes Peak Special
Mixed event
None