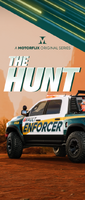 The Hunt was an ongoing LIVE Summit in The Crew 2 taking place between January 20-27, 2021 and succeeded the Next Chase LIVE Summit.
The Hunt marked the launch of the eponymous second episode of the MotorFlix season and the Police Enforcer Unit vehicles that they provided, as well as the Hunt-themed takedown events. It was a successor of the Chase LIVE Summit that took place in late November 2020.
The Hunt was followed up by the Dodge Addict LIVE Summit on January 27, 2020 at 04.00 UTC.
Rewards
[
]
Bronze
Silver
Gold
Platinum

400,000 followers

Legendary parts


RX: The Nitro Chemist
"Catch Me" underglow
Common

vanity item

Hummer HX Concept


Enforcer unit
Events
[
]
Icon
Type
Name
Restriction

Pit Mines Escape
Any landbased vehicle

St. George Speedtrap
None

Wind Power Plant Slalom
Any landbased vehicle

Southern Dash

Any Enforcer unit

Misty Mountain Trail

Any Enforcer unit

Glacier Park Special Stage
Lancia Rally 037

Cornfield Hunt

Any Enforcer unit

Bayou
Hummer HX Concept Enforcer unit (On loan)

Dakota Grasslands Dirt Race
Mixed event
Porsche 911 GT3 RS RD Limited Edition