Miami Airport
Miami, FL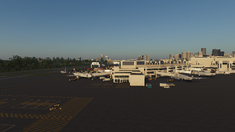 Miami Airport (also known as Miami International Airport and Miracle Airport) is an airport located in the western part of Miami, Florida. It is situated west of Little Haiti and Downtown Miami, north of Coral Gables and east of the Everglades.
It is the second largest airport out of four airports in The Crew 2 with the largest one being the NY Airport in New York City, New York. The airport featues many helicopter landing spots as well as two runways for airplanes to lift and land on, however, in The Crew 2, a portion of one of the runways is closed off to a racing course.
In The Crew 2, there are three activities taking place in the airport area, namely the Airport Terminal D as well as the Airport Terminal E drift race and the Miami Airport Slalom skill event.