Miami Harbor (Dodge Island)
Miami, FL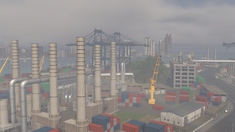 Miami Harbor (also known as Port Miami) is an area in-game located in Miami, Florida, between Downtown Miami and South Beach, south of the Venetian Islands and the MacArthur Causeway Bridge.
Miami Harbor is situated on Dodge Island, an artificial island estabilshed in the early 1900's. Players can access the area via the Port Boulevard Bridge located in Downtown Miami. The area is mostly industrial but there is a train station and some cruising ships present in-game too.