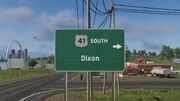 Similar to the real world United States, The Crew has several numbered highways with several of them based on their real world counterpart. However, some are completely nonsensical.
Interstate Highways
[
]
Interstate highways are featured in The Crew but signage is inconsistent in most areas.

Interstate 35
Interstate 70

Interstate 80

Interstate 94

Interstate 290
U.S. Highways
[
]
While primarily located in the Midwest, U.S. Highways (also commonly known as U.S. Routes), are also featured in The Crew. Unlike the Interstates, some routes are completely nonsensical or have incorrect numbering compared to the real world counterpart.

U.S. Highway 2

U.S. Highway 6
U.S. Highway 16
U.S. Highway 20

U.S. Highway 30

U.S. Highway 31

U.S. Highway 34

U.S. Highway 36

U.S. Highway 41

U.S. Highway 47
U.S. Highway 52
U.S. Highway 53

U.S. Route 66

U.S. Highway 67

U.S. Highway 70
U.S. Highway 83
U.S. Highway 85
U.S. Highway 421
See also
[
]