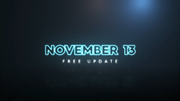 An update for The Crew 2 was deployed on Wednesday, November 13, 2019 after a news post was published on October 24, 2019 announcing the update.[1] The news post also revealed the roadmap of upcoming updates to the game, confirming two free schedueled updates to be deployed at some point during the spring and summer of 2020, addtionally confirming continuing support for The Crew 2.
The update was the first major update since the Hot Shots update that was released on April 24, 2019. It was also the first update to be announced outside of the updates that were announced at the launch of the game.
The update contained new events, new vehicles, new LIVE Summits and a new vanity type.[2] The new vanity type had been confirmed to be underbody glow by an official Ubisoft representative before the launch of the game.[3]
A teaser trailer for the upcoming update was also published on the same day. It showed a blue Porsche Carrera GT rolling into a garage with different types of underbody glow being applied. A new vanity tire was also showcased.[4]
New content
[
]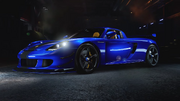 12 new vehicles and editions:

6 brand new vehicles:
6 brand new editions:

Ford F-150 Raptor Race Truck "Ghost Road" (as part of a LIVE Summit exclusive).
Porsche Carrera GT "Green Flash" (as part of a LIVE Summit exclusive).
Bugatti Veyron 16.4 Grand Sport Vitesse "One" (as part of a LIVE Summit exclusive).
Honda S2000 Ultimate Edtion "Red Panther" (as part of a LIVE Summit exclusive).
+2 additional editions to be announced on a later occasion.

New LIVE Summits and events:

17 summit's to be added lasting at least until March 11, 2020.
17 events to be added alongside these summits.

78 new vanity items:

New category: Underbody glow - 25 types.
New: Smokes - 26 types.
New: Tires: - 27 types.
References
[
]
External links
[
]