'The Crew 2' - Welcome to Gator Rush Gamescom 2018 Trailer
Play Sound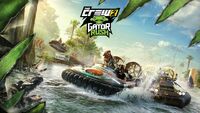 Gator Rush was the first set of upcoming free updates released in The Crew 2. The update was first announced on Ubisoft's home page on August 21st, 2018 and was released on September 26th, 2018.[1] New features that were added to the game includes the launch of the brand new Hovercraft discipline , part of the Off-Road Motorsport Family and five brand new vehicles (four of them being fictional generic vehicles whilst the fifth one being the 2015 Ariel Nomad).
Apart from the brand new off-road discipline and vehicles, Gator Rush also saw the introduction of the new Ace difficulty with brand new Legendary loot performance parts to be won, 18 new races, new skill events and a brand new season of the Live Xtrem Series were added.
The next update, King of Mayhem is expected to be released in December 2018. The contents of this update has not been revealed yet.
New content
[
]
Disciplines
Vehicles
Difficulty modes
Performance parts
New activites (2 activites)

8 Hovercraft events
3 Hypercar events
3 Jetsprint events
3 Touring car events
Live Xtrem Series - New Season
Skill events

Freestyle: Badlands Aerobatic
Freestyle: Big Bend Aerobatic
Freestyle: Old Louisiana Low Altitude
Freestyle: St. Julian Peak Aerobatic
Freestyle: St. Julian Peak Low Altitude
Freestyle: Las Vegas Aerobatic
Offroad: Big Bend Escape
Offroad: New Mexico Escape
Offroad: Red Rock Slalom
Offroad: Tahoe Forest Escape
Offroad: Yosemite Slalom
References
[
]