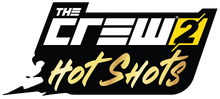 Hot Shots was an update in The Crew 2 released on April 24th, 2019 and was be the third update to be implemented. The most prominent new feature released was the LIVE Summit, a player vs. environment (PvE) game mode similar to The Summit in which players will be able to earn different types of awards depending on how they have finally ranked on a leaderboard on a weekly basis. [1]
Another new feature that was implemented with the Hot Shots update is the ability to apply vanity items and new forms of customization such as colored tires and smoke effects, a feature that is completely new to The Crew series.[2]
Apart from the LIVE Summit and the new forms of customization, the Hot Shots update featured new vehicles and events. Unlike the previous two updates, the Hot Shots update did not include a new discipline as otherwise promised at the initial launch of the game as developers felt the need to reorganize. [citation needed] Unlike other updates, new events will appear on a weekly basis instead of them all being released at the same time.
Hot Shots was first revealed on a Live from Ivory Tower livestream that was streamed on Twitch and YouTube on March 26, 2019.
New content
[
]
Vehicles:
Acitivites:
Other:
References
[
]