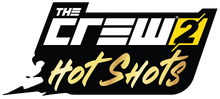 Hot Shots is an upcoming update in The Crew 2 schedueled to be released on April 24th, 2019 and will be the third update to be implemented. The most prominent new feature released will be the LIVE Summit, a player vs. environment (PvE) game mode similar to The Summit in which players will be able to earn different types of awards depending on how they have finally ranked on a leaderboard on a weekly basis. [1]
Apart from the LIVE Summit, the Hot Shots update will feature new vehicles and events. Unlike the previous two updates, the Hot Shots update will not include a new discipline as otherwise promised at the initial launch of the game as developers felt the need to reorganize. [citation needed]
Hot Shots was first revealed on a Live from Ivory Tower livestream that was streamed on Twitch and YouTube on March 26, 2019.
New content
Vehicles:
Acitivites:
Other:
References