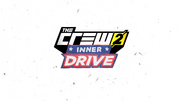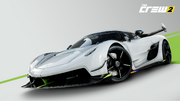 An update for The Crew 2 has been confirmed to be released on March 25, 2020 after a news update had been posted on the official website of The Crew 2 on March 5, 2020. It is the sixth update to be deployed and will conclude the Blazing Shots update.[1]
On March 18, 2020 a teaser video for this update was posted which revealed the name of the update being Inner Drive. The teaser video also featured a Koenigsegg Jesko with green neon lighting underneath.[2][3]
Full details for the update were posted on The Crew 2's website the day before the update in a news post. Amongst new cars, events and LIVE Summit's, Inner Drive will also the see the release of new vanity item categories as well as reworked avatars, the latter which was teased in the teaser trailer.[4]
A sub-update to Inner Drive was released on May 27, 2020 which rolled out the Hobbies activity.
New content
[
]
New vehicles

Brand new vehicles:
Special editions:

New LIVE Summit's and events

15 Summit's to be added lasting at least until July 8, 2020.

105 new vanity items:

4 new categories:

2D emotes
Custom horns
Custom nitro
Window tints

Additional smokes
Additional tires
Additional underbody glow

New & reworked avatars

Can be re-chosen, but only one time
References
[
]