This article is about the update that was released on December 5th, 2018! For the article about the in-game event in the Demolition derby discipline with the same name, please visit King of Mayhem!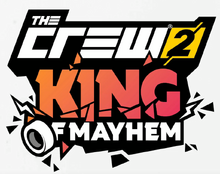 King of Mayhem was the second set of free updates released in The Crew 2 on December 5th, 2018. The announcement of the King of Mayhem update DLC was first teased in the Gator Rush DLC launch game stream on TheCrewGame's Twitch channel on September 25th, 2018, where the development team asked the community to guess what the meaning of the update was.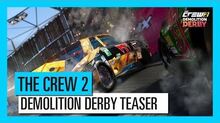 On November 27th, 2018, a teaser trailer for Demolition Derby was uploaded to Ubisoft's YouTube channel confirming its appearance in the upcoming King of Mayhem DLC. The following day, on November 28th, a more detailed news post was published on The Crew's website revealing more of the contents in King of Mayhem.[1] A follow-up maintenance was released on December 12th, 2018 fixing some issues that occured with the update.[2]
New content
[
]
Disciplines
Vehicles
Map additions
New activites

Alpha grand prix events

A Tour With Alexis/Golden Hills

A Tour With Alexis/California

A Tour With Alexis/Florida

Demolition Derby events
Drift events

West Commercial Bushimura Event

Upper East Side

Rallycross events
Live Xtrem Series: Holiday Special
10 new skill events

Escape: Big Sur
Escape: Detroit
Escape: Hill Country
Escape: Joshua Tree Land
Escape: New Orleans
Slalom: Glacier Park
Slalom: Lake Mead
Slalom: Palm Coast
Speedtrap: Barstow

New set of photo ops (Demolition category)

Other

Live Contracts

Players will have the opportunity to win Crew Credits everyday when completing tasks.

PvP (LiveBattle)

Players will now be able to race against each other in multiplayer.
References
[
]