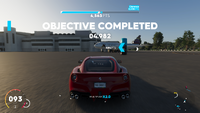 In The Crew 2, Skills are shorter single player events where players will have to beat a certain target in six different game modes, namely Aerobatic, Buoy Smashing, Escape, Low Altitude, Slalom and Speedtrap with each motorsports family having their own set of skills that players can complete.
Unlike other races in-game, the restrictions on what vehicle type the player is permitted to use in a skill is more loosened than in the races; for instance, players can use a plane to a speedtrap event in the street racing family or use a jetsprint vehicle to compete in one of the water slalom events in the pro racing family or use a hypercar to escape in an offroad event.
Since Skills are short and quick to complete, rewards aren't as high in comparison to the regular races in-game. It is possible to win loot from any performance level once the target has been beaten, however, they drop less frequently than in races.
Types of Skills
Aerobatic: Players must fly an airplane in a way to match some certain positions given in a set course. The more precise that the player can positionate their airplane, the more points they can accumulate that will help them reach their target.
Buoy Smashing: Players must smash buoy's that have been set up. Smashing them will gather points that players can be used to beat the target. Some buoy's give players higher points. As this skill takes place on water, thus the skill is restricted to powerboats and jetsprints.
Escape: Players must escape from an expanding red circle by driving as far from it as possible whilst beating a set target. Eventually and inevitably, the circle will catch the player.
Low Altitude: Players must fly as low as possible without touching or crashing into any objects that are on the ground. While doing this, players will accumulate points that will help the player beat the target. The closer that the players are to the ground, the more points they can accumulate. Players can only use an aerobatic or an air racing plane to complete this type of skill.
Slalom: Players must zig-zag their way through a set slalom course without colliding with a checkpoint. The closer that the player is to the checkpoints, the more points they will receive. Hitting a checkpoint will break their multiplier.
Speedtrap: Players must try to accumulate as much speed as possible before driving by a camera that will record their speed. This skill can be completed with any vehicle as long as it is moving in front of the camera and reaches the set target. Speeds that are "too low" will not be recorded. Players must be also careful not to crash into something while the camera is recording their speed, otherwise it will be counted as invalid.
List of Skill events
*marks that the event was added as part of Gator Rush.
**marks that the event was added as part of King of Mayhem.
***marks that the event was added as part of Hot Shots.
Street Racing Skills
Escape
Icon
Title
Objective
Reward
New Orleans**
French Quarter, New Orleans, LA
1027 yds
940 m
250
1,875
Downtown L.A.
Downtown, Los Angeles, CA
984 yds
900 m
250
1,875
Roswell***
Roswell, NM
1006 yds
920 m
250
1,875
Financial District
Financial District, New York, NY
776 yds
710 m
250
1,875
Big Sur**
Big Sur, CA
776 yds
750 m
250
1,875
Golden Hills Race Track***
Golden Hills Race Track, CA
1027 yds
940 m
250
1,875
Canyonlands***
Canyonlands, UT
995 yds
910 m
250
1,875
Detroit**
Downtown Detroit, Detroit, MI
831 yds
760 m
250
1,875
Jackson Hole Valley
Jackson Hole Valley, WY
1006 yds
920 m
250
1,875
Columbia Basin***
Columbia Basin, WA
1017 yds
930 m
250
1,875
Keys
Florida Keys, FL
1038 yds
950 m
250
1,875
Stormdrainer
Los Angeles River, Los Angeles, CA
1224 yds
1120 m
250
1,875
Pikes Peak
Pikes Peak, CO
1093 yds
1000 m
250
1,875
Uptown
Central Park, New York, CA
765 yds
700 m
250
1,875
Las Vegas
West Commerical, Las Vegas, NV
1075 yds
980 m
250
1,875
Speedtrap
Icon
Title
Objective
Reward
Barstow**
Barstow, CA
124.3 mph
200.0 km/h
50
1,875
Financial District
Financial District, New York, NY
111.8 mph
180.0 km/h
50
750
Orange Grove
Orange Grove, FL
111.8 mph
180.0 km/h
50
750
Jersey Racing Track***
Jersey Racing Track, NJ
130.5 mph
210.0 km/h
50
750
St. Louis
Midtown, St. Louis, MO
124.3 mph
200.0 km/h
50
750
Glacier Park***
Glacier Park, MT
118.1 mph
190.0 km/h
50
1,875
Santa Fe**
Santa Fe, NM
130.5 mph
210.0 km/h
50
1,875
Las Vegas
Strip, Las Vegas, NV
124.3 mph
200.0 km/h
50
750
San Francisco
Haight-Ashbury, San Francisco, CA
124.3 mph
200.0 km/h
50
750
Temecula Wineries
South Coast, CA
111.8 mph
180.0 km/h
50
750
Tower Area
Belltown, WA
118.1 mph
190.0 km/h
50
750
Midtown
Midtown, New York, NY
124.3 mph
200.0 km/h
50
750
Salt Lake City
Downtown, Salt Lake City, UT
105.6 mph
170.0 km/h
50
750
Magnificent Mile
Magnificent Mile, Chicago, IL
124.3 mph
200.0 km/h
50
750
Downtown Detroit
Downtown, Detroit, MI
124.3 mph
200.0 km/h
50
750
L.A. Harbor
Los Angeles Harbor, Los Angeles, CA
111.8 mph
180.0 km/h
50
750
Central Plains
Central Plains, TX
111.8 mph
180.0 km/h
50
750
Seaside
Suburbs, Washington D.C.
111.8 mph
180.0 km/h
50
750
Downtown Miami
Downtown, FL
118.1 mph
190.0 km/h
50
750
Big Land
Tucson Aircraft Cemetary, AZ
130.5 mph
210.0 km/h
50
750
Meteor Crater
Tumacacori, AZ
124.3 mph
200.0 km/h
50
750
Central Valley
Central Valley, CA
136.7 mph
220.0 km/h
50
750
Central Coast
Central Coast, CA
130.5 mph
210.0 km/h
50
750
St. George
St. George, UT
124.3 mph
200.0 km/h
50
750
White Mountains
White Mountains, NY
124.3 mph
200.0 km/h
50
750
Historic District Dallas
Arts District, Dallas, TX
130.5 mph
210.0 km/h
50
750
Plateau
Mississippian Plateau, KY
136.7 mph
220.0 km/h
50
750
Grand Canyon
Grand Canyon
124.3 mph
200.0 km/h
50
750
Jackson Hole Valley
Jackson Hole Valley, WY
130.5 mph
210.0 km/h
50
750
South Beach Miami
South Beach, Miami, FL
130.5 mph
210.0 km/h
50
750
Little Eagle
near Little Eagle Speedrome, New Holland
124.3 mph
200.0 km/h
50
750
Dallas Dam
Great Plains, near Dallas, TX
155.3 mph
250.0 km/h
50
750
Stadium
International District/Harbor Island, Seattle, WA
149.1 mph
240.0 km/h
50
750
Padre Island
South Padre Island, TX
149.1 mph
240.0 km/h
50
750
Lake Erie Shoreline
Lake Erie Shoreline, MI
161.6 mph
260.0 km/h
50
750
New York Bridge
Hudson River, NY
149.1 mph
240.0 km/h
50
750
Salt Flats
Bonneville Salt Flats, UT
149.1 mph
240.0 km/h
50
750
Offroad Skills
Escape
Icon
Title
Objective
Reward
Big Bend*
Hill Country, TX
995 yds
910 m
250
1,875
St. Julian Peak***
St. Julian Peak, UT
250
1,875
Arch Park Trail
Canyonlands, UT
1115 yds
1020 m
250
1,875
Tahoe Forest*
Tahoe Forest, CA
1323 yds
1210 m
250
1,875
Grand Canyon
Grand Canyon, AZ
1181 yds
1200 m
250
1,875
San Bernardino
Inland Empire, CA
612 yds
560 m
250
1,875
Great Basin***
Great Basin, UT
250
1,875
Red Rock***
Red Rock, UT
250
1,875
Pikes Forest
Jackson Hole Valley, WY
1049 yds
960 m
250
1,875
New Mexico*
New Mexico, MM
1115 yds
1020 m
250
1,875
Fergus Pass
Glacier Park, MT
1279 yds
1170 m
250
1,875
Central Woods
Central Woods, CO
820 yds
750 m
250
1,875
Black Hills
Black Hills, SD
874 yds
800 m
250
1,875
Waterfalls
Niagara Falls, NY
765 yds
700 m
250
1,875
Black Mount
Black Mount, AZ
678 yds
700 m
250
1,875
Pit Mines
Pit Mines, PA
863 yds
790 m
250
1,875
Salem Woods
White Mountains, MA
754 yds
690 m
250
1,875
Rockies
Salt Lake City Resorts, UT
1060 yds
970 m
250
1,875
Sequoia Forest
Giant Sequoia Forest, CA
1202 yds
1100 m
250
1,875
Conifer Forest
Great Basin, UT
1060 yds
970 m
250
1,875
West Rim
Grand Canyon / West Rim, AZ
1006 yds
920 m
250
1,875
Navajo Trail
Navajo Trail, AZ
973 yds
890 m
250
1,875
High Sierra
High Sierra, CA
1104 yds
1010 m
250
1,875
Slalom
Icon
Title
Objective
Reward
Miami Beach***
Miami, FL
2,820 pts
250
1,875
Temecula Wineries
South Coast / Temecula Wineries, CA
3,540 pts
500
3,750
Big Land
Black Mount / Tucson Aircraft Cemetary, AZ
4,650 pts
500
3,750
Meteor Crater***
Meteor Crater, AZ
3,750 pts
250
1,875
Bayonne
Bayonne, NJ
3,370 pts
250
1,875
Yosemite*
Yosemite, CA
4,760 pts
250
1,875
Red Rock*
Red Rock, NV
4,460 pts
250
1,875
Space Industries
Space Industries, TN
4,300 pts
250
1,875
Big Sur
Big Sur, CA
3,710 pts
250
1,875
Seaside
North Atlantic Ocean / Ocean State, MA
3,540 pts
250
1,875
Salt Lake Resorts
Salt Lake City Resorts, UT
3,100 pts
250
1,875
Highland Park
Highland Park, Detroit, MI
6,150 pts
250
1,875
Great Plains
Texas Panhandle / Great Plains, TX
4,650 pts
250
1,875
Wind Power Plant
Wind Power Plant, IL
4,240 pts
250
1,875
StormX Arena
StormX Arena, near Newport, RI
3,060 pts
250
1,875
Everglades
Everglades, FL
3,440 pts
500
3,750
Shasta Cascade
Shasta Cascades, CA
4,220 pts
250
1,875
Death Valley
Death Valley, NV
4,540 pts
250
1,875
Bluegrass
Bluegrass Region, KY
4,570 pts
250
1,875
Freestyle Skills
Aerobatic
Icon
Title
Objective
Reward
Dallas
Great Plains, TX
3,230 pts
250
1,875
Las Vegas*
Death Valley, NV
5,500 pts
500
3,750
Navajo Trail
Navajo Trail, UT
2,350 pts
500
3,750
Badlands*
Badlands, SD
4,980 pts
250
1,875
Lake Mead
Death Valley / Lake Mead, NV
2,390 pts
500
3,750
Pacific Coast
North Pacific Ocean, near Bay Area, CA
4,280 pts
500
3,750
Miami
Biscayne Bay, Miami, FL
3,400 pts
500
3,750
Big Bend*
Big Bend, TX
5,450 pts
500
3,750
Red Rock
Red Rock, NV
2,770 pts
500
3,750
Central Park
Central Park, New York City, NY
2,640 pts
500
3,750
Seattle
Shasta Cascades, WA
2,650 pts
500
3,750
Chicago
South Loop, Chicago, IL
2,730 pts
500
3,750
Los Angeles
North Pacific Ocean, near Los Angeles Harbor, LA, CA
3,770 pts
500
3,750
Washington
Suburbs, Washington D.C.
3,240 pts
500
3,750
West Rim
Mojave Desert, NV
4,440 pts
500
3,750
Pikes Peak
Pikes Forest, CO
2,650 pts
500
3,750
Bay Area
Bay Area, CA
4,280 pts
500
3,750
Great Plains
Great Plains, TX
4,360 pts
250
1,875
Pit Mines
Coal State, PA
3,620 pts
500
3,750
St. Julian Peak*
Glacier Park, MT
4,870 pts
500
3,750
Buoy Smashing
Icon
Title
Objective
Reward
Chicago
Kansas Sunflower Fields, KS
4,970 pts
500
3,750
Glacier Park***
Glacier Park, MT
7,040 pts
500
3,750
Great Lakes***
Great Lakes, MI
5,710 pts
250
1,875
Bayou
Old Louisiana, LA
4,240 pts
250
1,875
Salt Lake
Great Salt Lake, UT
4,790 pts
250
1,875
Mississippi
Mississippi Delta, MS
4,030 pts
250
1,875
Lake Mead
Lake Mead, NV
4,120 pts
250
1,875
Dairyland
Dairyland, WI
4,010 pts
250
1,875
East River
East River, New York City, NY
5,130 pts
250
1,875
Port Isabel


Gulf of Mexico

, near Port Isabel, TX
5,660 pts
500
3,750
Grand Canyon
Grand Canyon, AZ
5,480 pts
250
1,875
Seattle
Harbor Island, Seattle, WA
5,530 pts
250
1,875
Low Altitude
Icon
Title
Objective
Reward
Colorado River Banks***
Colorado River Banks, CO
4,750 pts
500
3,750
Old Louisiana*
Old Louisiana, CA
6,090 pts
500
3,750
Yosemite
Yosemite, CA
3,950 pts
500
3,750
Colorado River***


Colorado River

, UT
4,920 pts
500
3,750
Arch Park Trail
Arch Park Trail, UT
3,310 pts
250
1,875
St. Julian Peak*
Salt Lake City, UT
4,310 pts
250
1,875
The Cascades***
Southern Cascades, CA
5,170 pts
500
3,750
Northern Rockies
Great Basin, NV
2,700 pts
250
1,875
Chicago
The Loop, Chicago, IL
2,800 pts
250
1,875
Jackson Hole
Jackson Hole Valley, WY
4,450 pts
500
3,750
Los Padres
Los Padres, CA
4,150 pts
500
3,750
Brooklyn
Brooklyn, New York City, NY
3,290 pts
250
1,875
Glacier Park
Glacier Park, MT
3,500 pts
250
1,875
Grand Canyon
Grand Canyon, AZ
3,970 pts
500
3,750
White Mountains
White Mountains, MA
3,570 pts
250
1,875
Kings Canyon
Kings Canyon, CA
4,580 pts
500
3,750
New Mexico
New Mexico, NM
3,560 pts
250
1,875
Pro Racing Skills
Escape
Land
Icon
Title
Objective
Reward
Space Industries
Old Louisiana, LA
699 yds
640 m
250
1,875
Texas Panhandle
Central Woods, TX
1082 yds
990 m
250
1,875
Coal State
Coal State, PA
1017 yds
930 m
250
1,875
Maine Hightlands
Crown of Maine, ME
973 yds
890 m
250
1,875
Kings Canyon
High Sierra, CA
929 yds
850 m
250
1,875
Saint Mary
Glacier Park, near Saint Mary, MT
984 yds
900 m
250
1,875
Lake Tahoe
Lake Tahoe, CA
918 yds
840 m
250
1,875
Lower Peninsula
Lower Peninsula, MI
874 yds
800 m
250
1,875
Bayou
Bayou, FL
1017 yds
930 m
250
1,875
In The Woods
White Mountains, MA
1235 yds
1130 m
250
1,875
Water
Icon
Title
Objective
Reward
Las Vegas Hotels***
Las Vegas, NV
1202 yds
1100 m
250
1,875
Hill Country**
Great Plains, TX
885 yds
810 m
250
1,875
Orange Grove***
Orange Grove, FL
1213 yds
1110 m
250
1,875
Lake Mead***
Lake Mead, AZ
1443 yds
1320 m
250
1,875
Joshua Tree Land**
Black Mount, CA
929 yds
850 m
250
1,875
Colorado River***


Colorado River

, UT
1465 yds
1340 m
250
1,875
Slalom
Land
Icon
Title
Objective
Reward
Golden Hills Desert
Golden Hills Race Track, NV
3,850 pts
250
1,875
NY Airport
New York Airport, New York City, NY
4,940 pts
250
1,875
Miami Race Track
Miami Race Track, FL
4,040 pts
250
1,875
Manhattan
Lower Manhattan, New York City, NY
2,610 pts
250
1,875
Miami Airport
Miami Airport, Miami, FL
4,280 pts
250
1,875
The Giants
The Giants Race Track, CA
4,810 pts
250
1,875
L.A. River
Los Angeles River, Los Angeles, CA
4,750 pts
250
1,875
Little Eagle
Little Eagle Speedrome
5,910 pts
250
1,875
Salt Flats
Bonneville Salt Flats, UT
5,090 pts
250
1,875
Water
Icon
Title
Objective
Reward
Miami Harbor
Biscayne Bay, Miami, FL
3,240 pts
250
1,875
San Francisco
Fisherman's Wharf, San Francisco, CA
4,150 pts
500
3,500
Glacier Park**
Glacier Park, MT
3,760 pts
250
1,875
Maine Highlands
Crown of Maine, ME
3,070 pts
250
1,875
Lake Mead**
Lake Mead, AZ
3,510 pts
250
1,875
Palm Coast**
Pine Island, VA
4,260 pts
250
1,875
Keys
Florida Keys, FL
3,420 pts
500
3,750
Grand Canyon
Colorado River Banks, AZ
3,760 pts
250
1,875
Mississippi
Mother Road 66, near St. Louis IL/MO
3,490 pts
250
1,875
Port Isabel


Gulf of Mexico

, near Port Isabel, TX
3,800 pts
250
1,875
L.A. Harbor
Long Island, CA
3,960 pts
500
3,750
Black Hills
Black Hills, SD
2,400 pts
250
1,875
North Bay
North Beach, Miami, FL
4,060 pts
500
3,750
Newport
North Atlantic Ocean,near Newport RI
2,420 pts
250
1,875
Chicago
Near South Side, Chicago, IL
5,540 pts
250
1,875
Acadia
North Atlantic Ocean, ME
3,310 pts
250
1,875