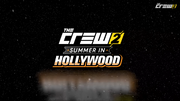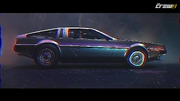 An update for The Crew 2 was released on July 8, 2020 after a news update had been posted on the official website of The Crew 2 on July 7, 2020. It was the seventh update to be deployed and will conclude the Inner Drive update.[1]
On June 25, 2020 a teaser video for this update was posted which featured a 2020 Porsche 911 Carrera 4S.[2]
Full details for the update were posted on The Crew 2's website the day before the update in a news post. Unlike other updates, Summer in Hollywood features no new core content apart from new cars, events, customization options and LIVE Summit's.[3]
New content
[
]
New vehicles

Brand new vehicles:
Special editions:

New LIVE Summits and events

17 Summits to be added lasting at least until November 11, 2020.

48 new vanity items:

6 2D emotes
2 Custom horns
9 Custom nitros
8 Window tints
6 Additional smokes
10 Additional tires
7 Additional underglows
References
[
]