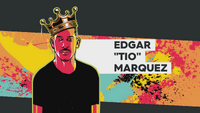 Edgar "Tio" Marquez is a character in The Crew 2 and the main rival antagonist in the street racing motorsport family. He can often be spotted driving in a white-black-red vehicle whenever he appears in a race. His real name is revealed to be Edgar in the opening prologue of the Financial District South race.
To beat Tio, players must unlock The Keys To The City rival race located in Key West, Florida.
Tio Marquez is voiced by Joseph Balderrama.[1]
Yamanoi Jin portrays Tio as the Japanese voice dub.
References
[
]