Tucson Aircraft Cemetary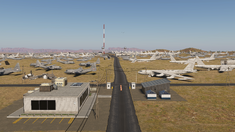 The Tucson Aircraft Cemetary (also known as the Tucson Airplane Boneyard) is an aircraft cemetary located in Tucson, Arizona. In-game, it is located between the Big Land and Black Mount areas. It is the home of many retired airplanes in The Crew.
Players can access this area by taking one of the exits on the Sacramento - El Paso highway. The nearest city is Winslow, Arizona. It is also possible to quick travel to this area in The Crew 2 as both of the skill activities Big Land (Speedtrap) and Big Land (Slalom) is located here. The photo OP mission, King Of The Graveyard is also to be completed here.
Although the Tucson Aircraft Cemetary could be recognized as a neighborhood part of Tucson, the city of Tucson, Arizona itself is however, not represented in any of The Crew titles.