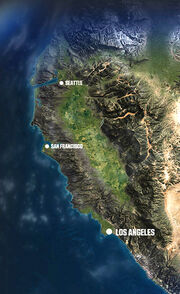 The West Coast is a geographic region in The Crew. It is comprised of mountains, valleys, deserts, forests, beaches, coastal regions and farm land.
West Coast skills are unlocked at Level 40, along with the Circuit Tuner.
Sub-Regions / Landmarks
Edit
Big Sur
Folsom Lake
Lake Tahoe
Mount Shasta
North Cascades
Olympic Park
South Cascades
The Redwoods
Law Enforcement
Edit
The region is patrolled by West Coast Troopers, that read "POLICE" along the side of their vehicles. Their vehicles include Ford Crown Victoria's, Dodge Charger's, Ford F-150 Raptors, and Chevrolet Corvette's (sometimes depends on vehicle spec and location). Their cars are a light tan/beige/cream white and blackish-brown, and can be found in all parts of the region.
BigFoot can be found in the North Cascades in a clearing by Seattle.
There is a location that is part of the game, but that doesn't have a location name or an associated region. It is located a little northwest of Seattle, on a beach. A Raid vehicle is recommended to get there. Once you are there enlarge the minimap, and minimize it again. What will read is a location that has a non-existent name, and will be starting with something like a "D".
Oregon does not appear in the game.
Los Angeles Int'l Airport is the only airport in the game where you cannot access its runways.